Simple how-to articles and free tools for financing your goals, managing your money, mutual fund and stock investments
Combine Nifty & Nifty Next 50 funds to create large, mid cap index portfolios
Here is how you can combine NIfty 50 (Nifty or N50) and Nifty Next 50 (NN50) index funds to create large and mid cap index portfolios. Since both N50 and NN50 index funds have been around for many years, index investors can use these two instead of new or low AUM ETF or index fund like Nifty 100, Nifty 100 Equal Weight, Nifty Midcap 150 or Nifty Large Midcap 250.
The advantage with building an index portfolio by combining two non-overlapping index funds is flexibility. Its risk and reward potential can be adjusted as per market condition or as per the goal. Tactical asset allocation is also possible as discussed between large and small caps here:Profit Booking from Small Cap Mutual Funds: Does it work?
In what follows we shall consider different combination results and discuss their return and risk for different durations, you can check the video version below for how this was done. The idea is to choose a combination of Nifty 50 and Nifty Next 50 that closely resembles a given index in terms of risk and reward. A 100% match is not possible for any possible duration, but a close enough fit will suffice.
We shall start with the NIfty 100 Equal Weight Index. This has the top 100 stocks from the NSE in equal proportions. You can read more about it here:Will large cap mutual funds struggle to beat Nifty 100 Equal Weight Index?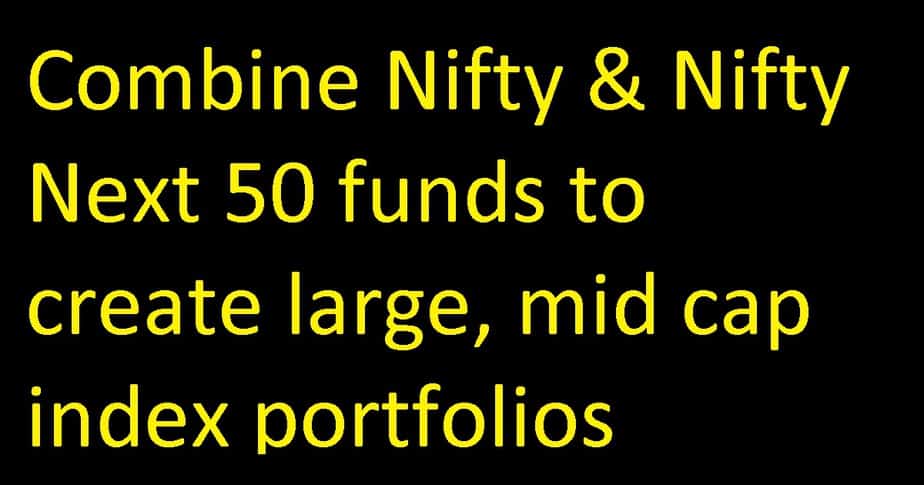 Note:The blend portfolios are constructed with daily rebalancingwich is clearlyan overkill. In real life, a blend portfolio will be rebalanced once a month by an institution (eg. Nifty Large Midcap 250) or once a year by an individual investor. So the experience is likely to vary. The blend proportions will have to be reconstitutedafter comparing returns on a case to case basis,
Nifty 100 Equal Weight Index with 50% NN50 and 50% N50 (10 years)
Nifty 100 Equal Weight Index with 50% NN50 and 50% N50 (15 years)
Nifty 100 Equal Weight Index with 40% NN50 and 60% N50 (15 years)
NIfty 100 with 20% NN50 and 80% N50 (10 years)
NIfty 100 with 20% NN50 and 80% N50 (15 years)
NIfty 100 with 10% NN50 and 90% N50 (10 years)
NIfty 100 with 10% NN50 and 90% N50 (15 years)
NIfty Large Midcap 250 with 30% NN50 and 70% N50 (10 years)
NIfty Midcap 150 with 50% NN50 and 50% N50 (10 years)
Nifty 100 Equal Weight Index with 50% NN50 and 50% N50 (10 years)
This is a 50:50 blend over ten years. Rolling returns are shown in the top panel and the rolling standard deviation (risk) is shown in the bottom panel. The match in returns is reasonable, but the blend has more volatility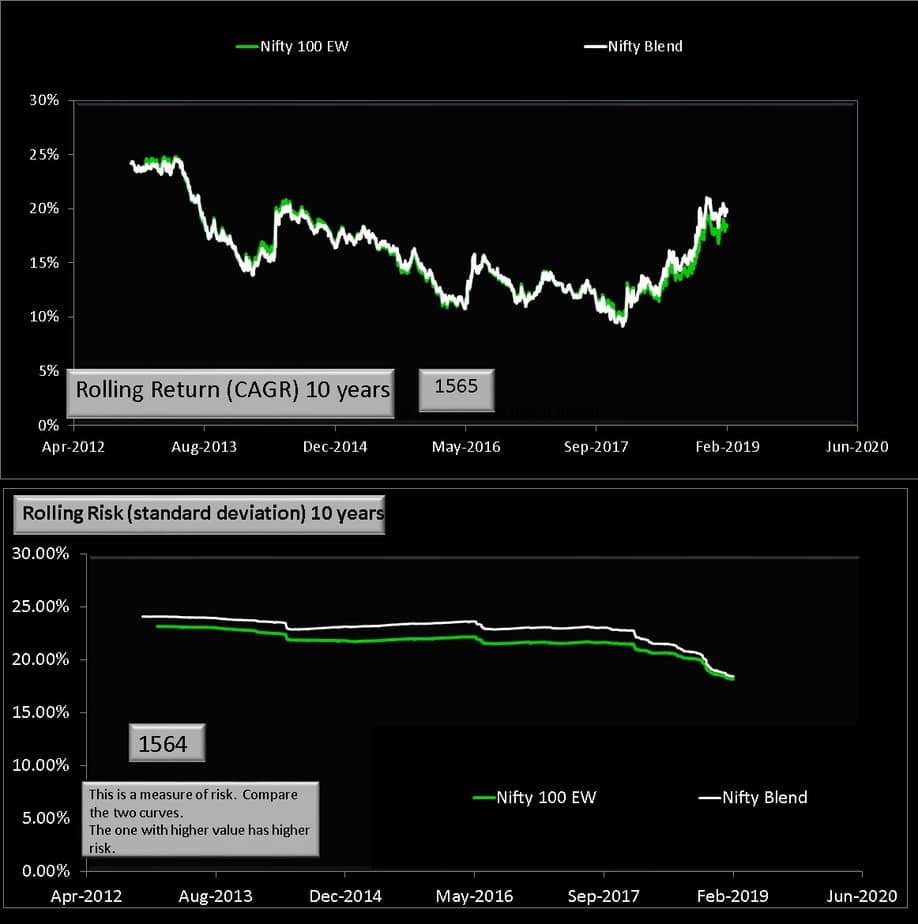 The 50:50 blend outperforms the Nifty 100 Equal Weight over 15 years though (with a little more risk)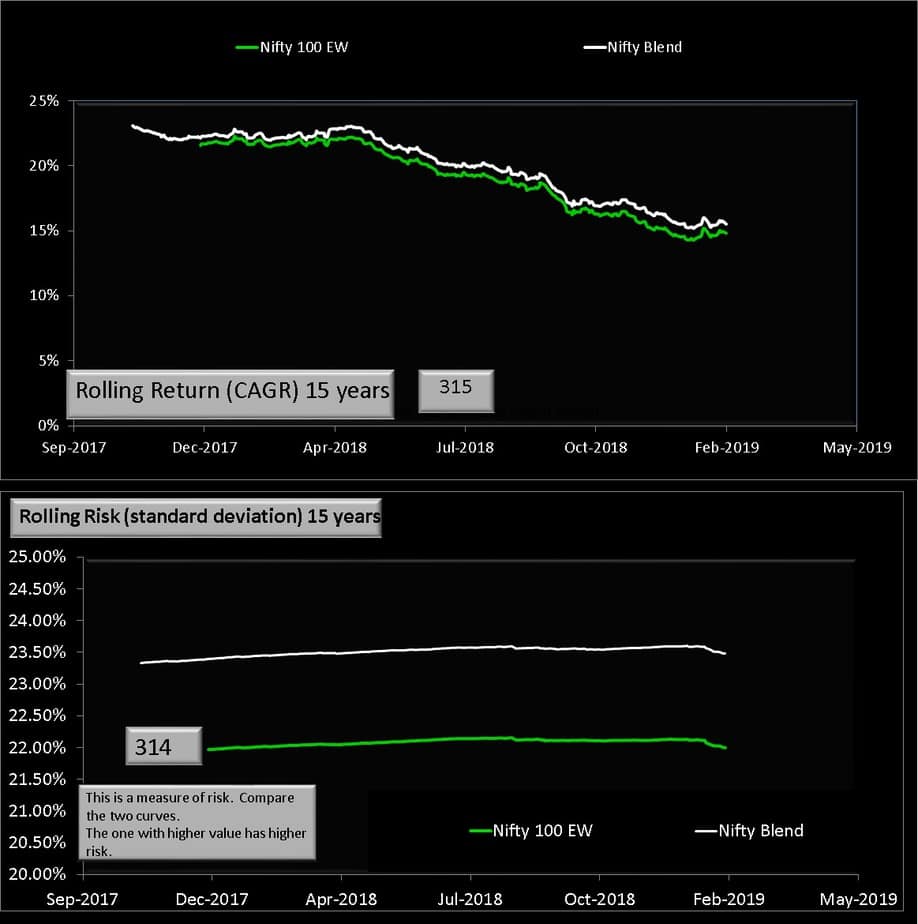 A lower NN50 weight to 40% or less may match returns with N100EW better over the long term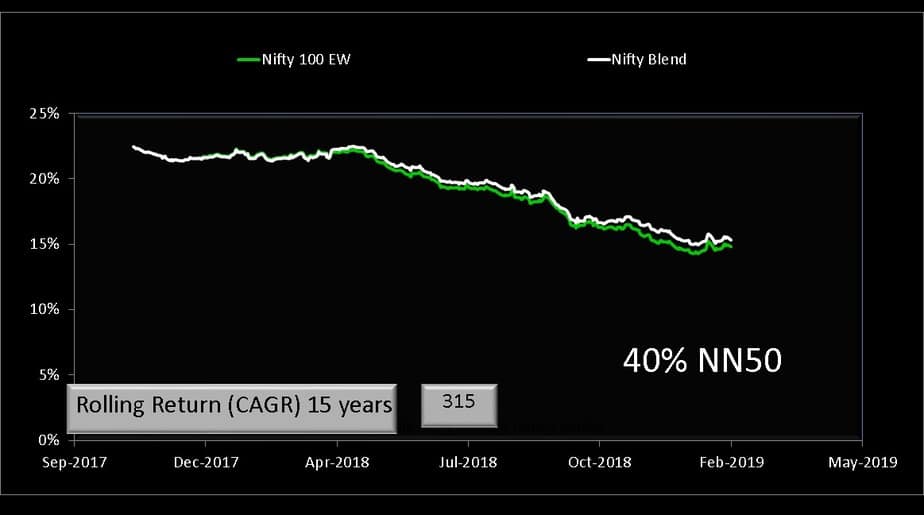 Next we shall consider different combinations of Nifty 100. This is a capitalization-weighted index of the top 100 stocks in the NSE and only a little bit of NN50 would suffice for a decent match. You can read more about the importance of the Nifty 100 here:Only Five Large Cap funds have comfortably beat Nifty 100!
One can see that even 10% NN50 is even to reproduce the risk and a reward of N100 over 10 and 15 years. A portfolio with 20% NN50 could possible outperform N100 with higher volatility.
Next is the Nifty Large Midcap 250. This is 50% of Nifty 100 and 50% of Nifty 150.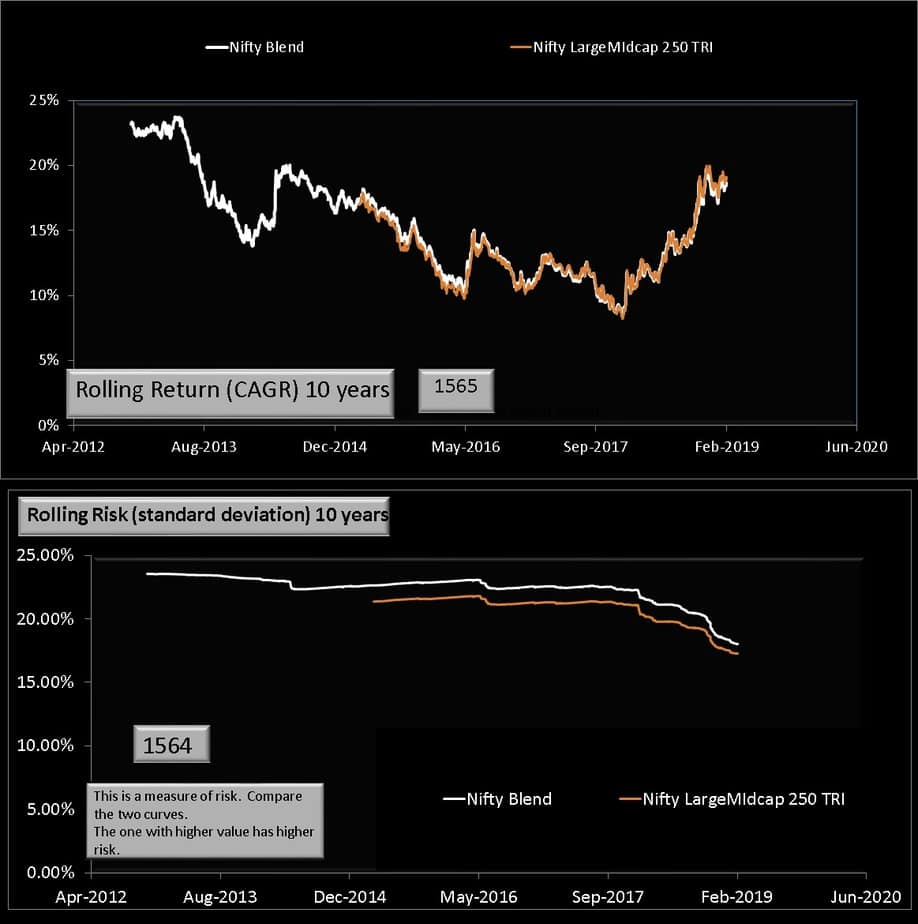 There is not enough data to check for 15 years. Next we have the Nifty Midcap 150.
Even a mid cap fund can be replicated with this blend portfolio. It is amusing that the blend has a higher volatility than the midcap index. This is the reason I keepwarning that Nifty Next 50 is NOT a large cap index!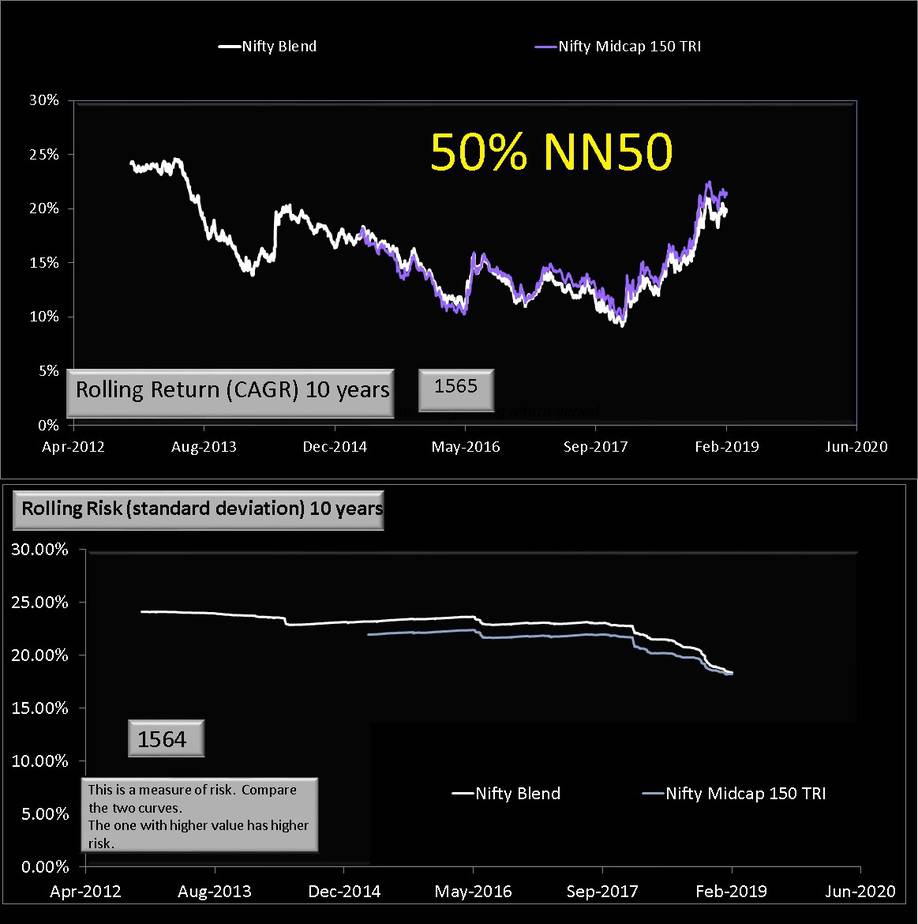 One can even try to match Nifty 200 or Nifty 50 equal weight with this blend the NN50 exposure could bequitesmall. Someone asked on YouTube (see video below) about Nifty low volatility 30. Since this index has a lower volatility than Nifty 50, it makes no sense to use the blend to replicate it as the USP of low volatility would be lost.
Create a from start to finish financial plan with this unique open-source robo advisory software template
Dont like ads but want to support the site? Subscribe to the ad-free newsletter!
You will get the full post-ad-freedelivered to your inbox for Rs. 3000 a year.
Follow this link to read the terms and sign up!
You can be rich too with goal based investing
as he is popularly known, publishes unbiased, promotion-free research, analysis and holistic money management advice. Freefincal serves more than one million readers a year with numbers based analysis on topical issues and has more than a 100 free calculators on different aspects of insurance and investment analysis, including a robo advisory template for use by beginners.
freefincal at Gmail dot com He conducts free money management sessions for corporates (see details below). Previous engagements include
Freefincal has original unbiased, conflict-of-interest-free, topical reports, reviews, commentary and analysis on all aspects of personal finance like mutual funds, stocks, insurance etc. All guest authors and contributors to the site also do not have any conflict of interest. If you find the content useful, please consider supporting us by (1) sharing our articles and (2) disabling ad-blockers for our site if you are using one.
We do not accept sponsored posts and link exchange requests from content writers and agencies
. The revenue from the advertisement willonly be used for hosting charges, domain registration charges, specific plugins necessary for traffic growth and analytics services for search engine optimisation.
Want to conduct a sales-free basics of money management session in your office?
I conduct free seminars to employees or societies. Only the very basics and getting-started steps are discussed (no scary math):For example: How to define financial goals, how to save tax with a clear goal in mind; How to use a credit card for maximum benefit; When to buy a house; How to start investing; where to invest; how to invest for and after retirement etc. depending on the audience. If you are interested, you can contact me: freefincal [at] Gmail[dot] com. I can do the talk via conferencing software, so there is no cost for your company. If you want me to travel, you need to cover my airfare (I live in Chennai)
You Can Be Rich Too with Goal-Based Investing
My first book is meant to help you ask the right questions, seek the right answers and since it comes with nine online calculators, you can also create custom solutions for your lifestyle!
Gamechanger: Forget Startups, Join Corporate &
My second book is meant for young earners to get their basics right from day one! It will also help you travel to exotic places at low cost!
This is a deep dive analysis into vacation planning, finding cheap flights, budget accommodation, what to do when travelling, how travelling slowly is better financially and psychologically with links to the web pages and hand-holding at every step.
All calculators from our book, You can be Rich Too are now available on Google Play!
Install Financial Freedom App! (Google Play Store)
Install Freefincal Retirement Planner App! (Google Play Store)
Find out if you have enough to say FU to your employer (Google Play Store)
Your thoughts are vital to the health of this blog and are the driving force behind the analysis and calculators that you see here. We welcome criticism anddiffering opinions. I will do my very best to respond to all comments asap. Please do not include hyperlinks or email ids in the comment body. Such comments will be moderated and I reserve the right to delete the entire comment or remove the links before approving them.
Profit Booking from Small Cap Mutual Funds: Does it work?
These five index funds beat their indices! Why you should avoid them!
Hi pattu sir, thanks for this informative and comparative post on n50 nn50 and n100. If it is not much of a problem, can you share this comparitive excel file for us readers so that people can experiment with such blend %
How To Download This excel tool please Provide the Link
Thanks sir, for sharing the useful information. Can you please provide the path for viewing the above sheet as mentioned in the video.
Your email address will not be published.Required fields are marked*
Create a start to finish financial plan with the freefincal robo advisory template
Create your own financial plan with this financial planning template
What we can learn from Petrol, Diesel historical price inflation data
Do not expect returns from mutual fund SIPs! Do this instead!
Do Not Invest Rs. 50,000 in NPS for additional tax saving benefit in 2019!
The Kerala flood revealed old share certificates! This is how I converted them to Demat form
ICICI Prudential Multicap Fund Review: Can it be the only equity fund in our portfolio
The world may run on money but passion is the fuel!
Employee stock options: Are you overexposed to individual stocks? Try this!
Compare five fund portfolios for common stocks with new overlap tool!
Revised EPS Pension Calculator: How much will my EPS Pension increase?
Guide to efile Income Tax Return: ITR2, ITR3 and ITR5
Guide to efile Income Tax Return For AY 2018-19
Create a start to finish financial plan with the freefincal robo advisory template